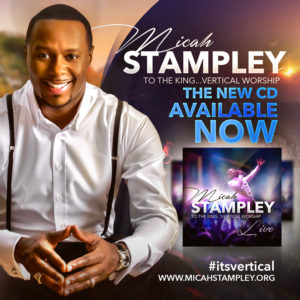 Micah Stampley
To The King: Vertical Worship
International worship leader Micah Stampley has been imbedding the stamp of The Lord within people on five continents over six amazing albums. His eighth recording, To The King: Vertical Worship on Interface Entertainment, distributed by eOne, marks another scintillating chapter in the Stellar and Dove Award-nominee's incomparable music mission. Micah subtitled the project "Vertical Worship" because the 12 praise and worship milestones within are primarily written not "about" God but TO Him—divinely inspired with wraparound global appeal. Collaborating with his anointed songwriter wife Heidi Stampley, musical director Cameron Sankey and Jeshua "Tedy P" Williams (co-producer of four songs), the man who started his career with Bishop T.D. Jakes has delivered a live album encompassing 360 degrees of God's mighty power—hits, hymns and new gems…from a whisper to a roar!
"I've experienced many tragedies in my family," Micah shares. "I'm the fifth of nine children, but only one of my three brothers is still alive. I've been homeless and in poverty. I came to a place in my life where I understood that God is not obligated to do anything for me because I am in need, but God is obligated to fulfill His word. As a gospel artist, I am singing the gospel of Jesus Christ—to lead God's people into His presence, not remind them of the situations they are in."
"Be Lifted," the lead single from To The King: Vertical Worship, reflects the sheer joy of praising The Lord. The seed of the song came to Heidi in her car. She shares, "I was picking my son up from school and began to sing, 'Jesus, we lift your name on high.' My son started singing along. When I got home, Micah and I went in the studio, he got on the organ and it was off from there. That one line became a reggae praise party…in English and Spanish!" Micah adds, "God said. 'If I be lifted up in the earth/I will draw all men unto me.' It's his responsibility to do the healing. My job is to lift him up and make his name famous."
To The King: Vertical Worship dynamically moves from thrilling openers "Oh, Give Thanks" and the intense call and response of "Heaven On Earth" (from Micah's CD, Release Me) to the beautiful pastoral meditation "I Believe" (first recorded on A Fresh Wind). Then the album dovetails into a serene passage of hushed intimate hymns and the especially timely original "Desperate People"—a prayer for a deeper relationship with God. Suddenly we're rocketed back into uplift with the sing-a-long/clap-a-long exuberance of "Be Lifted," "The Son of God" and the percussive pah-rump-a-pum-pum of "Sing Hallelujah." "I wanted this album to feel like you were at church in praise and worship," Micah explains. "Record companies say put your hits at the top so people can easily find them. Worship leaders put things together the way worship service should flow."
Saving the best for last, Micah closes To The King: Vertical Worship with a one-two punch of dynamism: the brand new intimate prayer serenade "Glory to The Lamb" and the hair-raising ASCAP Award-winning "Our God." On the origin of the former, Micah shares, "I woke up one morning about five to a text from Tedy P that read, 'OMG! God had me up since two in the morning with a song. Check your email!' I put my headphones on—Heidi was still asleep—and heard Tedy playing a melody. Though he can't sing a lick, he told me, 'Whatever you write, include this phrase at the end: Glory Hallelujah to the Lamb.' The hairs on the back of my neck stood up and I literally fell to my knees, weeping. I had been searching for something intimate and passionate. This was it! I shared it with Heidi and she started speaking in tongues! Driving to Tedy's house an hour later, God started giving me the words. I was singing into my phone. 'There's so much I want to tell you/It's like I've lived a thousand lives…' The three of us sat in Tedy's studio, going back and forth, and penned that song in 15 minutes!" It builds from a powerful piano accompanied solo vocal to a glorious climax that explodes into "Our God." Micah stretches one note into infinity then is later joined by Atlanta worship leader Sha Simpson for the big finish.
Micah Stampley is not new to this. The Los Angeles-born/Baton Rouge-raised music minister blessed with a multi-octave voice was participating in his pastor father's choir at four years-old and directing it by seven. Though drums were his first instrument, he switched to piano at 13 to more effectively get his composing and arranging ideas across, teaching himself on a Casio keyboard. Following a move to southern California in 1994 to get a fresh start from family tragedies at the behest of Pastor Earl Johnson (a total stranger who became his "God Daddy"), Micah was introduced to worship and traveled the world, discovering the multi-cultural reality of spirituality. "It was like a bag of Skittles in church," Micah marvels—"Latin, Asian, White and Black—culture shock but very refreshing."
Briefly, Micah pursued dreams of R&B/pop stardom. "Every time I did," he recalls, "it was shut down. So I happily decided to just lead worship in church." On a visit to Louisiana, Micah met and married registered nurse Heidi Jones in 1998 gaining both a matrimonial partner and songwriting partner. "Then T.D. Jakes' associate Marcus Dawson filled in for music ministry at my church in Houston, heard me and told the Bishop. I got snatched up and wasn't even trying!" While signed to Jakes' Dexterity Sounds label, Micah developed a contemporary gospel and praise style that earned him critical acclaim and a fast-growing fan base.
His 2005 debut CD, The Songbook of Micah (produced by Cedric Thompson) became the second highest Gospel Chart debut (at No. 3) for a male vocalist at the time thanks to "War Cry" and "Take My Life." He was a Stellar Award nominee for Male Vocalist of the Year and New Artist of the Year. The CD was reissued by EMI Gospel in 2006 as The Songbook of Micah: Deluxe with Remixes.
In 2006, Micah came back strong as he and Heidi started their own label, Levitical Records, to release A Fresh Wind: The Second Sound which yielded "I Believe" (the video was No. 1 for six weeks on the Gospel Music Channel) and "Another Place," the gorgeous flute-kissed "You Are Lord" and duet "Call to the Nations." This resulted in two 2007 Stellar Award nominations: Contemporary Male Vocalist of the Year and Praise and Worship CD of the Year.
Micah's fourth album, Ransomed (released on the Stampley's renamed Interface Entertainment company in 2008) featured the hits "Corinthian Song," "Lend Your Song To Me" and a gem from the pen of one his greatest inspirations: "Always Remember" by Andraé Crouch.
The 2010 EP Release Me (released in association with Mathew Knowles' Music World Music) featured the popular "Heaven on Earth" (penned by David Binoin, John Brockman & Joshua Dufene which Micah heard just once then recorded to international renown) and a jazz arrangement of the Christmas hymn "Angels We Have Heard On High."
With a newfound goal to further broaden his audience within Contemporary Christian Music, Micah tailored 2011's One Voice to that audience with exciting new sounds like "Hosanna" and "Shout," peaking at No. 5 on Billboard's Top Gospel Albums chart. "Desperate People" also bowed on this album and remains a major request in Africa and the U.K. That year The Stampleys also produced the television special "Answering the Call of Love," which aired on several Christian networks.
2013 saw the eagerly anticipated sixth CD Love Never Fails (Micah's first for Motown Gospel), produced by Micah (co-produced with Aaron Lindsey), and for which he and Heidi composed six of the eleven tunes. Highlights include the phenomenal "Our God" (an ASCAP Award winner and Top 10 charter produced by Asaph Ward), "How He Loves Me" (featuring Reggae star Chevelle Franklin and very popular in Caribbean), "We Will Praise You" and the title track. This yielded Micah Dove Award nominations for Contemporary Urban/Gospel Album of the Year and Contemporary Urban/Gospel Song of the Year.
The success of all this music resulted in much world touring including intensive popularity in Africa from Cape Town and Johannesburg to Nigeria. Coincidentally, among the most fascinating blessings of Micah's life was being adopted by His Royal Majesty Drolor Bosso Adamtey I—King of the Se' (formerly Shai) kingdom of Ghana, West Africa—in a 2008 ceremony attended by dignitaries, power players and media from around the globe. The adoption made Micah a Prince. The two men met when Micah was asked to be music minister over a luncheon in Riverside, California. The King was profoundly moved, speaking prophetic words over Micah and Heidi before all present. The King, who had two daughters, had been praying for a son. God stepped in blessing the king and Micah with the desires of their hearts. Two years later, the King sent for Micah and Heidi, spending a weekend laying out his royal design.
"My gift made room for me," Micah says humbly. "God said, 'I brought you back to the place you were born to birth a new relationship.' Now I am an ambassador crowned Prince Martey Kwabla Adamtey. There's a lot of history…African slavery began in Ghana. The first slave castle ever built is there on The Gold Coast. Over time, the Se' people have been scattered abroad. We want them to come home. There are plans afoot to make our beautiful state a tropical mountain paradise. My father is even willing to give them land. So my responsibility is great. It's not just wearing a crown and living a life of luxury."
Coupled with his responsibilities as a father to four biological sons Brandon, Micah II, Adam and David, biological daughter Mary and adopted son Desmond Martin—all of whom sing, three of them on this record—Micah stays busy, acting in TV ("House of Payne") and film ("Anchorman 2"), indulging his passion for gourmet cooking, and coaching his kids' basketball and track teams. "I was a Track and Field athlete," Micah concludes. "I thought The Olympics was my destiny. God had another plan. Our gifts will always put us in positions, but if you don't have the character to go with it, it won't last. You've got to have the fruit of the spirit."
The Fruit of The Spirit is bountifully revealed within Micah Stampley's To The King: Vertical Worship.